AIC Hotel Group at the IMEX America Show: Rocking and Rolling
September 23, 2019
After three full days of engaging hundreds of corporate event planners on the show floor at IMEX America in Las Vegas from September 10-12, I can say that I slept well when I returned home. Not only because I surely needed the sleep, but also because my team and I were able to tell so many planners about the meeting and incentive possibilities that can be found at our all-inclusive properties in Miami, on the eastern and western coasts of Mexico, and in the Dominican Republic.
Making a standout impression on a show floor full of destinations trying to do the same is not easy, for sure. But I was so happy with the level of energy and enthusiasm my team put out there, and I really like the open, welcoming design of our exhibit space (pictured below). We were able to have detailed conversations with planners about their upcoming programs, and the tables and seating were not just comfortable but arranged in a way such that the white noise coming from all around the show floor didn't affect the conversations we had.
While walking the show floor, I discovered an interesting element that an event could use at our own properties: A map of the hall set right on the floor, so it was easy for people to find the exhibits they were looking for and have a physical understanding of where they were located at that moment and where they would be going. See that photo below as well.
If I missed you at the IMEX America show, I'd love to hear from you via email or phone about your experience there, and bring you up to date on what our all-inclusive properties have added lately to their mix of amenities and services.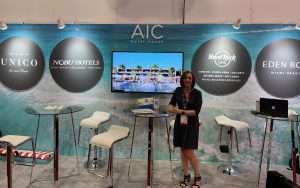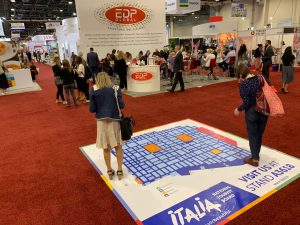 ---
Back To Blog