Themed Event Setups Make for Fun and Memorable Sessions
August 6, 2019
As my team and I work with meeting and incentive groups coming to AIC Hotel Group properties in eastern and western Mexico, Dominican Republic, and Miami, one fun aspect is helping those planners bring to life relevant and fun themes for their event spaces. Obviously, our properties' tropical locations lend themselves to beach- and tiki-related themes for social gatherings, but there's also some deep culture among each location's original inhabitants that can also be used, especially in destinations like Cancun and Riviera Maya.
For business sessions, of course, most groups don't want a theme that's too frivolous. So the convention services teams at our properties are always looking across the meetings and events industry for interesting theme ideas that can help reinforce a meeting's message. Recently, we found one that is becoming more popular, and which works pretty well across a wide range of industries: the boxing ring.
Below are two photos from recent business events that used a boxing ring as a stage to present content from. The indoor photo is from a recent marketing-industry conference, where two industry veterans debated an issue and the audience chose the winner. The outdoor photo is from Professional Convention Managers Association's recent EduCon conference in Los Angeles, which has weather similar to that at AIC Hotel Group destinations. The session was conducted by four different people, each of whom spoke for 10 minutes about a difficult challenge they overcame in their work. So the boxing-ring theme fit that topic perfectly.
Naturally, our properties could also build out this theme idea for your upcoming event. But we can also provide different ideas and props for any type of theme or message you want your attendees to remember. I'd be happy to hear from you to kick a few ideas around.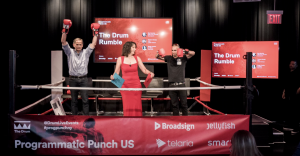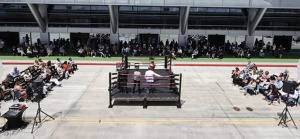 ---
Back To Blog